Uncivil Wars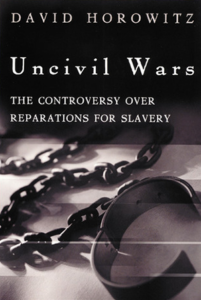 The idea that taxpayers should pay reparations to African-Americans for the damages of slavery and segregation has won the backing of important black politicians like Rep. John Conyers (D-Mich.), distinguished black intellectu­als like Henry Louis Gates, and activists like Randall Robinson, who led the successful boycott movement against South Africa a decade ago. Reparations played a central role in the fractious United Nations Conference on Racism in the fall of 2001.
Uncivil Wars
In Uncivil Wars, David Horowitz carefully ana­lyzes the case for reparations for slavery and con­cludes that it is "morally questionable and racial­ly incendiary." He notes that only a tiny minority of Americans ever owned slaves and that most Americans living today (white and otherwise) are descended from post-Civil War immigrants who have no lineal connection to slavery at all. More intriguingly, he also points out that the GNP of black America is so large that it makes the African-American community the tenth most prosperous "nation" in the world. "Since American blacks on average enjoy per capita incomes 20 to 50 times those of blacks living in the African nations from which their ancestors were seized," he writes, "should the descendants of slaves pay themselves for benefiting from the fruits of their ancestors' servitude?" In answering this and other questions, Horowitz looks deeply into the question of race and the American enter­prise and provides a stirring defense of George Washington, Thomas Jefferson, Abraham Lincoln and other of our national heroes whom the parti­sans of reparations demean as mere slave-masters and hypocrites.
In addition to providing a casebook on an idea—a bad idea, in Horowitz's opinion—whose time seems to have come, Uncivil Wars also reveals a crisis of free speech on our college cam­puses, where support for the reparations move­ment is centered. In the hope of initiating a true dialogue on this issue, Horowitz tried to air his arguments against reparations for slavery by plac­ing advertisements in a series of college newspa­pers in the spring of 2001. He tells how some of the editors who accepted the ad were forced to denounce themselves Chinese Communist-style in the furor that followed. Others simply rejected the ad altogether and joined other student radicals in indicting him as a "racist" and a "fascist." Horowitz then traveled to campuses all over the country on a "freedom tour" to challenge this censorship, and encountered such menace from radicals and their supporters in faculties and administrations that he was eventually forced to hire personal guards to guarantee his safety.
Uncivil Wars, therefore, is two stories at once: an intellectual journey into the guilt and redemp­tion of American history, and a personal journey into the havens of intolerance inside our centers of higher learning that threaten their integrity and vitality.
It is impossible to travel with David Horowitz and not return both shaken and enlightened.